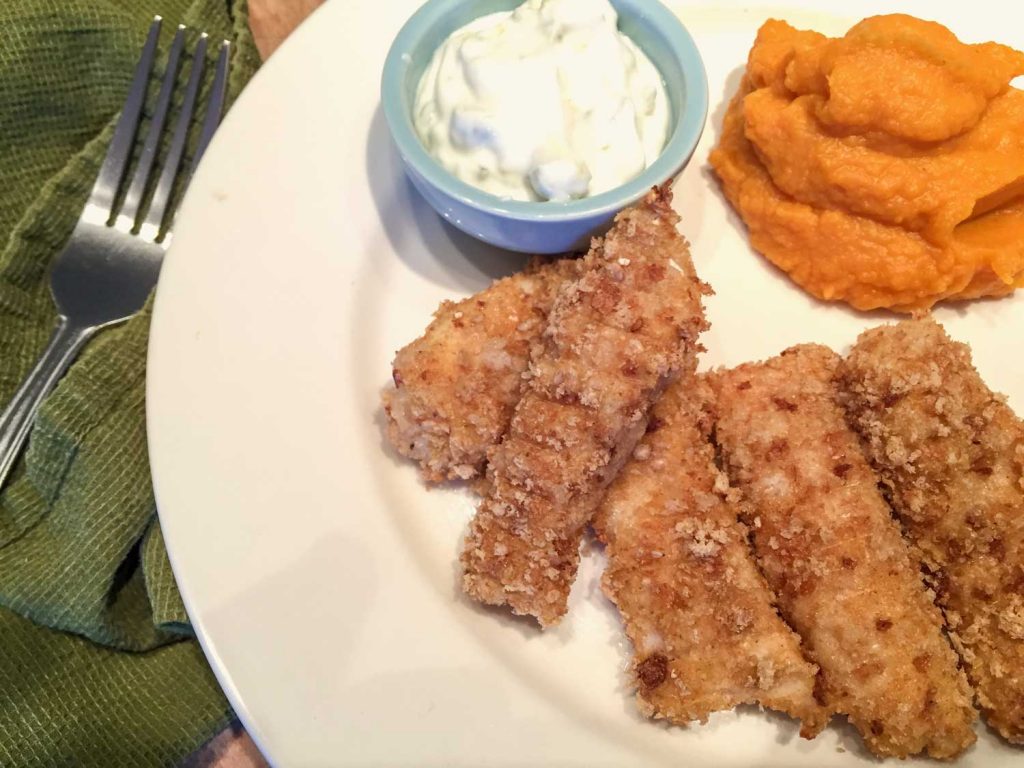 We have been hearing a lot about fish fries so I decided it was a good chance to incorporate fish into our own dinner menu for the week. Fish Sticks are a favorite of my girls + most kids if I had to guess, so that was the perfect choice. When made from scratch, they are much healthier + fresher tasting which makes for smiles all around the table. This recipe is easy to manage + pairs well with any vegetable or side dish. The dip that I like to create is greek yogurt based + is fitting for the fish flavor.
These sticks take less than 30 minutes to make + you'll have a healthy meal for your family with fresh ingredients that you can pronounce. It's easier than you think to make your own at home with a stunning taste that is well worth the effort. If you are in a pinch for time, you can make about half the fish into the sticks for the kids + set aside the remainder of the larger pieces for the adults. Or you can make them into a fish sandwich which can be a great alternative that everyone in the family can enjoy.
Baked Fish Sticks
2017-03-16 10:53:45
A quick and delicious dinner option for the whole family.
Ingredients
1 lb. firm flesh white fish, cut into strips about 1 inch x 3 inch
½ cup white whole wheat flour
1 teaspoon garlic powder
1 teaspoon onion powder
Salt and freshly ground pepper
2 slices whole wheat bread
2 eggs
2 Tablespoons of milk
Cooking spray
DIP
1 cup Greek yogurt
Zest + juice of 1 lemon
Salt + freshly ground pepper to taste
Instructions
Preheat oven to 400°. Place a metal cooling rack on a baking sheet + spray with cooking spray.
Place flour, garlic + onion powder on a rimmed plate. Season with salt + pepper then mix with a fork.
Place bread slices in a food processor + process until small + uniform in size.
Transfer to a rimmed plate.
Whisk eggs and milk in a medium flat bowl or pie pan.
Set up a breading station. Dredge fish sticks in flour mixture, shaking off any excess.
Then dip fish in egg mixture, then breadcrumbs, gently press breadcrumbs into fish.
Place fish sticks on prepared baking sheet + lightly spray the fish with cooking spray.
Cook for about 12 minutes or until the fish is cooked through. Carefully flip about half way for even browning.
To make dip, combine Greek yogurt, lemon zest + lemon juice in a small bowl.
Season with salt + pepper.
Notes
Get creative with the dip. Add in fresh parsley, diced pickles, or capers. If you like spice, add in Sriracha. Or throw all the ingredients in a food processor with some roasted red peppers.
Flavor 360 https://flavor360.org/