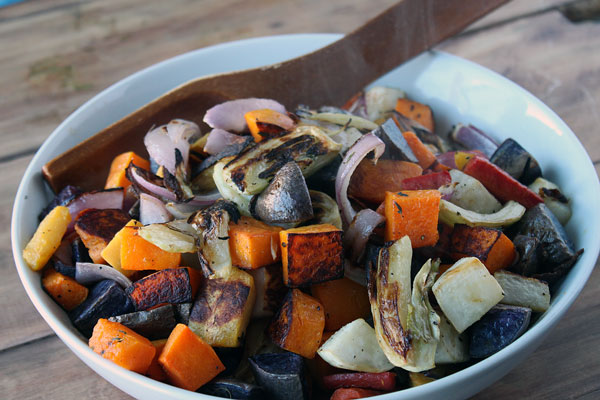 Chef Kara Loves Roasted Winter Veggies!
I simply love roasting winter veggies when the weather makes you want to snuggle up indoors. They're so versatile and nutritious! Plus, I take advantage of any opportunity to make veggies the star of the plate whether I'm preparing appetizers like my tasty maple + chipotle roasted carrots or dishes for lunch boxes like root veg + ricotta hand pies for my clients, or just a healthy weeknight meal for my family.
Roasted veggies go great with almost any meal from burgers to roasted chicken, taste perfect on pizzas, and the leftovers shine when combined with a salad. The possibilities are endless.
Take advantage of all the hearty root vegetables in season right now. Keep it simple with one veg, or mix them all together like we do at our house. We've been enjoying local Missouri turnips, sweet potatoes, and all types of winter squash. Fennel is my go-to favorite since it adds a unique anise flavor that mellows out to almost sweet when roasted. Adding carrots, parsnips, and red onions into the mix adds some bright color and a ton of vitamins.
Roasting veggies is a cinch!
In a large bowl, toss your veggie pieces with a generous coating of olive oil, salt, and pepper. Don't stress about amounts, just use what you have on hand and experiment. No measuring required! Add in any other herbs/spices you dream up! One of my favorites is smoked paprika! Fresh rosemary and thyme are other great choices that taste like winter to me.
I always put the pans in the oven while preheating the oven to 425°. When the oven is ready, toss the veggies onto the hot pans. This helps along the roasting process. Cook at 425° for about 25-35 minutes. Flip your veggies halfway through.
That's all there is to make yummy roasted veggies that will warm your insides on a cold winter night!
CHEF KARA TIPS.

Cut all veggies to be about the same size, which helps everything cook evenly and in the same amount of time.

Skip veggies like peppers because they sweat out too much liquid.

Don't overcrowd the pans – giving the veggies room to roast on the pan will get that nice brown edge your want!