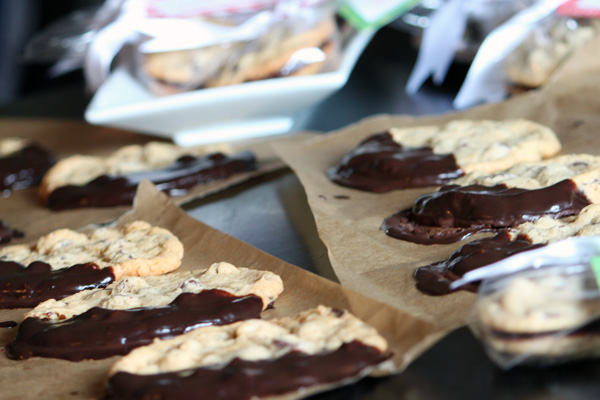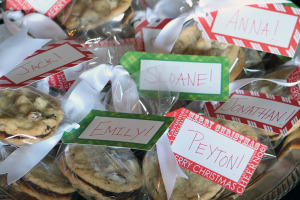 This year, for my daughter's holiday party at school, I decided to make mini chocolate chip sandwich cookies for the kiddos and oversized, ganache- dipped chocolate chip cookies for the teachers. In our house, nothing goes faster than chocolate chip cookies (even the special batches for my hubby…he loves chocolate chip cookies with barely any chocolate chips). I can't think of a better way to thank my daughter's teachers than to share delicious treats from the heart with them. This is my treasured chocolate chip recipe. And don't skimp on the salt! It adds an extra savoriness that you won't soon forget.
Add chocolate ganache for sandwich filling or dipping!
---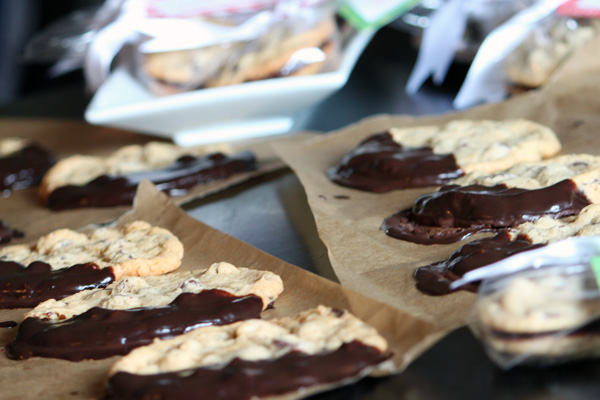 CHOCOLATE CHIP COOKIES
2014-12-04 02:15:56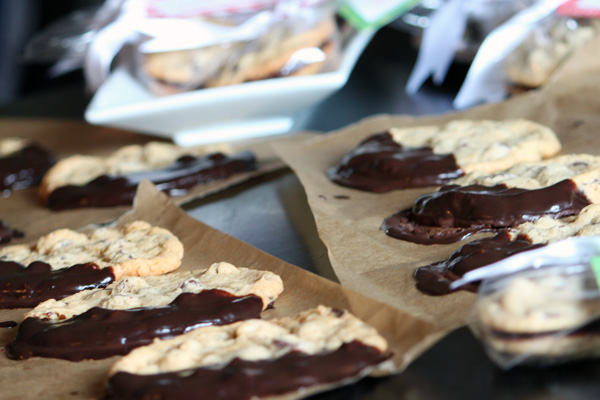 Ingredients
1 cup unsalted butter, softened
1/2 cup sugar
1 1/2 cup brown sugar
2 eggs
2 tsp vanilla extract
12 oz all-purpose flour
1 1/2 tsp baking powder
1 tsp baking soda
3/4 tsp kosher salt
2 1/4- 2 1/2 cups semi-sweet chocolate chips
Chocolate Ganache – for sandwich filling or dipping
Instructions
Preheat oven to 350°. Line baking sheets with parchment paper, set aside.
Cream butter, sugar, and brown sugar approximately 3 minutes on medium speed or until light and fluffy. Add both eggs and vanilla and beat on medium for an additional 2 minutes.
Add flour, baking powder, baking soda, and salt. Mix on med-low speed until fully incorporated into cookie dough. Stir in chocolate chips with wooden spoon until well distributed.
Using a cookie scoop (small, medium or large depending on how big you want your cookies to be) drop in rounded balls onto prepared cookie sheets. Refrigerate the portioned cookies for about 30 min before baking to help them retain their shape (or freeze for a little less time if preferred).
Bake 12-14 minutes or until edges are golden brown. Let cookies cool completely on the parchment paper. To make sandwich cookie, spread flat side of one cookie with ganache and top with a similarly sized cookie. To dip cookies, once ganache has cooled slightly dip one end of cookie in ganache and let dry on parchment paper.
Notes
Chocolate Ganache: Chocolate Ganache recipe can be found here>>> https://flavor360.org/?p=1699
Flavor 360 https://flavor360.org/