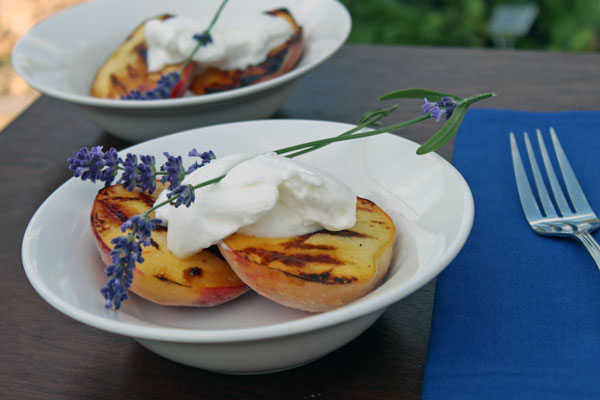 When I'm entertaining, it's so nice to serve dishes that have been prepared ahead of time so that I can relax + enjoy my guests. This is especially true with desserts, because after dinner the last thing I want to do is slave over dessert + miss being with my guests.
That's why I came up this grilled peach treat inspired by the beautiful purple lavender flowers in my herb garden. It is a great way to round out the weekend spent enjoying friends + family out by the grill. This is a rather simple dessert that is full of flavor + takes advantage of the sweet peaches just starting to come in at the farmers market. The peaches are beautiful looking on the table + sure to impress.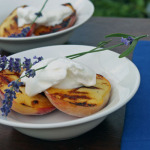 Grilled Peaches with Lavender Whip Cream
2017-06-28 11:36:27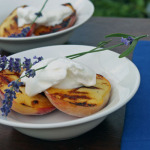 Ingredients
½ cup fresh lavender – coarsely chopped (no need to remove from stem)
¼ cup sugar
3 tablespoons water
1 cup heavy whipping cream
4-6 firm peaches – sliced in half, pit removed
Honey for brushing
Instructions
Combine coarsely chopped lavender stems and all, sugar, and water in small sauce pan.
Bring to a boil, then remove from heat and let steep for 20-30 minutes.
Strain through fine mesh strainer into small bowl.
Discard solids and let syrup cool.
Add heavy whipping cream to stand mixer fitted with whip attachment. (I put my bowl and whisk in the freezer while making the syrup which helps the cream whip faster).
Whip until stiff peaks appear.
Fold in lavender syrup.
Continue whipping for an additional minute to incorporate syrup.
Store in fridge until ready to serve.
Pre-heat grill. Brush cut side of peaches with honey and place cut side down on grill. Grill for about 3-5 minutes or until grill marks are highly visible and the peaches are slightly soft.
Serve with a good size scoop of the lavender whip cream and garnish with fresh lavender.
Flavor 360 https://flavor360.org/