Sunday nights are a great time to get everyone involved in the kitchen + with the weather being so nice, our family spent a lot of time outdoors. Planning an easy meal for the grill using fresh ingredients from farmers markets is simple this time of year.
Here is an easy family dinner menu that everyone will like:
Grilled corn on the cob w. herb butter

Chicken thigh skewers w. vegetables

Tomato + peach salad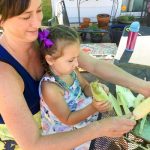 Grilling corn is a no fuss way to bring this sweet summer vegetable to the table. I typically will have the girls shuck the corn + that's it! Toss it on the grill + cook for about 10 minutes. In the Flavor 360 kitchen we make flavored butter from scratch, but when we are busy at home we just dress up store bought butter. All you need to do is chop up a small handful of your favorite herbs and mix into 1 stick of softened butter. We used chives + basil for our corn. This is a quick + easy way to really out the sweetness of summer corn.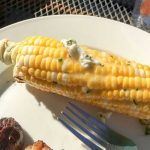 For the skewers, grab your favorite vegetables or any that need to be used up. We had a bunch of green peppers + zucchini from the farmer's markets that we used. We also included chicken thighs to maximize flavor since we skipped the marinade for this quick meal. Cut the thighs + all the vegetables into bite sized pieces + throw them all in a bowl. Toss with olive oil, salt + pepper. Dad + the girls were in charge of skewering the meat + vegetables. This is a great way to let kids have some decision power in the kitchen. They were able to decide on their own they wanted on their individual skewers .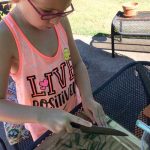 Tomato + peach salad is a fun way to have the girls practice their cutting skills. You can grab a few peaches + colorful heirloom tomatoes (or if you are lucky like us – tomatoes from Grandma's garden), rip up a couple leaves of basil, a few slices of red onion + top off with feta cheese. Any sort of simple vinaigrette that you have on hand works fine. At the Flavor 360 kitchen we like a honey + lemon vin to add a touch of sweetness.