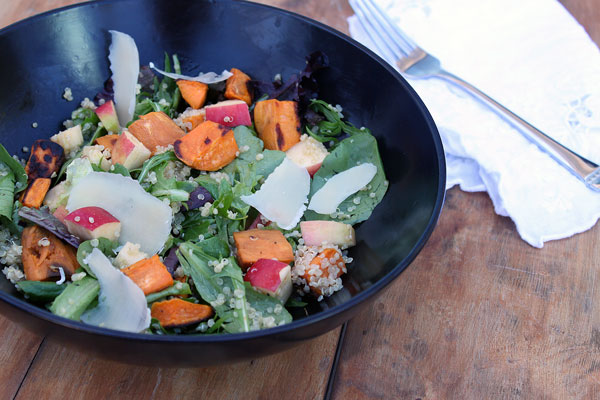 In the Kitchen with Kara: Cooking with Pantry Staples
Cooking at home becomes so much easier when you keep a couple key ingredients on hand at all times. I'm sharing some of my favorite go-to staples that you can always find in my fridge or pantry. They may seem basic, but they help add that extra something to any food and can be the start of quick, simple, weeknight meals! Things I can't live without in the kitchen: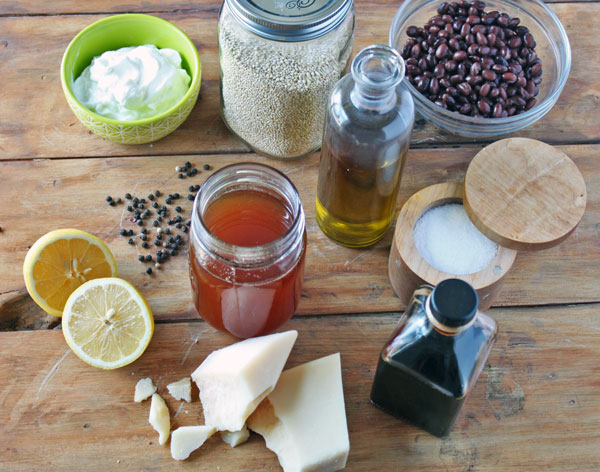 KOSHER SALT. Kosher salt has great big flakes so you get less actual salt than if you used regular table salt. Salt helps balance flavors when cooking and brings out the taste of your main ingredients.
GROUND PEPPER. Fresh ground pepper is also a great flavor balancer! It's worth an investment in a basic pepper grinder and then just grind as you go. Your pepper will stay fresher longer and you get the added benefit of enjoying a pepper flavor that really pops.
LEMONS. This great citrus fruit adds a fresh, clean taste to any food. Along with salt and pepper, lemons are one of the best flavor enhancers you can use.
OLIVE OIL. I use extra virgin olive oil for everything! Not only does it taste great, but also you get the benefits of healthy monounsaturated fats.
VINEGAR. I usually have anywhere from 4-6 vinegars in my pantry at any one time, but currently, I am really digging Trader Joes' white balsamic vinegar. Start with a basic vinegar you like and expand your variety, as you get more comfortable using it. You'd be amazed how a basic balsamic vinegar or even apple cider vinegar can really add some depth to your dish's flavor.
PARMESAN CHEESE. Buy it in a block, if possible. This gives you way more flexibility. You can shred it or shave it on top of salads or pastas, or slice it and throw it in a grilled cheese to punch up the flavor with sharp, nutty taste.
CANNED BEANS. Black beans, cannellini beans, great northern beans, kidney beans… it doesn't matter. They're healthy, full of protein, and easy! I like to drain and rinse the beans before using, which cuts down on almost half the salt.
WHOLE GRAINS. Find ones you like and are comfortable using. I always keep quinoa, wheat berry, or couscous on hand. Grains like these are so versatile and easy to prepare. They just sound complicated. And if you use chicken stock instead of water when cooking the grains, you'll infuse tons of flavor to the meal.
HONEY. Buy raw honey to enjoy the health benefits of this awesome, natural sugar. I use it instead of refined sugar whenever I can.
GREEK YOGURT. I love Fage 0% fat Greek yogurt. There are tons of brands, find your favorite, but just make sure it is strained and has no added sugar. You can use Greek yogurt as a healthier substitute for any recipe calling for sour cream or can use it to make a creamy dipping sauce or dressing. My family loves it on top of quesadillas.
These key ingredients provide the foundation for so many meals, a quick dressing, seasoning for fresh veggies, or marinating meat, chicken or fish. Use the beans and grains in salads or as quick sides. Add the Greek yogurt to oatmeal or top it with berries and honey for a quick breakfast. Check out my recipe below for Apple + Sweet Potato Quinoa Salad to see how simple ingredients can make for delicious and satisfying meal.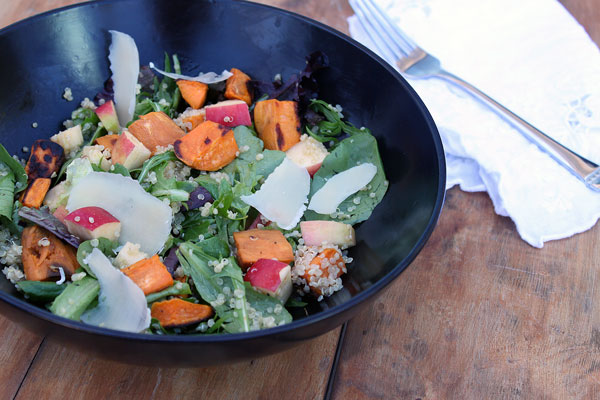 Apple + Sweet Potato Quinoa Salad
2015-04-02 11:59:05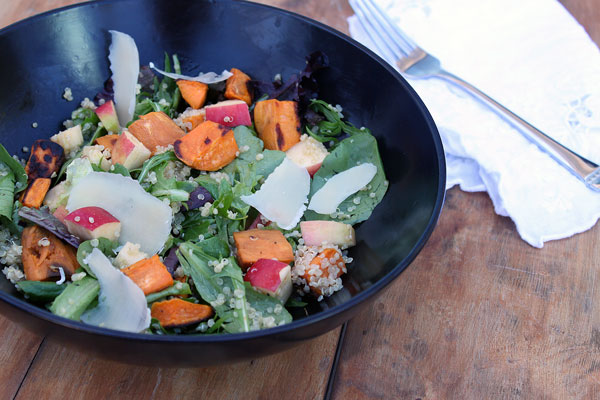 For the Salad
2 sweet potatoes- peeled and cut into 1/2 inch pieces
1-2 tablespoons extra virgin olive oil
salt
pepper
2 pink lady apples (or your favorite variety) - cut into bite sized pieces
4 ounces mixed greens
3 cups cooked and cooled quinoa
2 oz shaved parmesan
For the dressing
3-4 tablespoons white balsamic vinegar
salt
pepper
lemon juice - from 1/2 of a large lemon
2 tablespoons honey
8 tablespoons extra virgin olive oil
For the salad
Pre heat oven to 400 degrees.
Place chopped sweet potatoes in medium size bowl and toss with olive oil and salt and pepper. Spread out evenly on rimmed baking sheet. Roast for about 30 minutes or until slightly browned. Let cool.
Combine cooked sweet potatoes with remaining ingredients in large bowl. Add dressing to taste and toss to combine.
For the dressing
Add all the ingredients in a glass jar and shake to combine.
Flavor 360 https://flavor360.org/