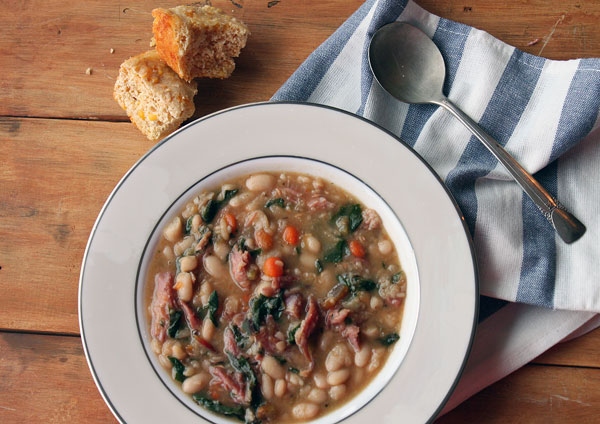 In the Kitchen with Kara: Kick the Can and Try Dried Beans
Canned beans are a pantry staple of mine, but don't be afraid to shake things up with dried beans. Using dried beans saves you money and some of the sodium used in the canning process. Plus, you can't beat the flavor and texture of using dried beans.
If you google how to prepare dried beans, you'll find tons of contradicting information. Don't get intimidated. All you need is a few minutes and a large pot.
First thing to remember is that even though dried beans look, well dried, doesn't mean they don't have an expiration date. Make sure to check the expiration date before buying and using! I prefer to buy beans in bulk at stores like Whole Foods, where there is a wide variety and I can get as much–or as little–of the particular kind of bean I want.
Some people swear by soaking the beans overnight before using them. As a busy mom, I prefer the quick soak method. Who has time to start cooking dinner the night before? Here's all I do:
Rinse your beans under cold water, making sure there is no debris.
Put them in a large pot and fill with water until the beans are covered under an inch or two of water.
Bring the beans to a boil.
As soon as the water boils, turn off the heat and cover.
Let the beans sit for an hour, then drain and use in your favorite recipe.
Ta da! You're done! Some people recommend salting the water the beans are soaking in, but I'd rather save the salt for the actual recipe. And in certain recipes–like my favorite ham and bean soup–the ham adds plenty of salt and any more could make the soup way too salty.
Speaking of which, I included my favorite ham and bean soup below. It's the perfect recipe to practice with dried great northern beans and use up some of your leftover Easter ham bones!
Ham + Bean Soup
2016-03-19 09:54:17
Ham Stock Ingredients
1-2 tablespoons olive oil
1-2 carrots, roughly chopped
1-2 celery stalks, roughly chopped
1 yellow onion, quartered
3-4 garlic cloves, smashed
1 lb. ham hock
A few sprigs of parsley
12 cups water
Ham + Bean Soup Ingredients
1-2 tablespoons olive oil
4 medium carrots, medium dice
4 medium celery stalks, medium dice
1/2 onion, medium dice
4 garlic cloves, minced
2 bay leaves
2 teaspoons fresh thyme
Reserved ham hock
2-3 lbs. smoked ham shanks
1 lb. dried great northern beans, soaked using the quick soak method and drained (feel free to substitute your favorite type of bean)
4-5 cups ham stock
1 bunch red chard, stems removed and roughly chopped
For the Ham Stock
Heat a large stock pot over medium-high heat, add olive oil swirling to coat. Add carrots, celery, onion, garlic, and ham hock, cook until browned stirring occasionally.
Add parsley and water, bring to a boil then lower to simmer and simmer for 2-2.5 hours.
Strain stock, reserve ham hock and discard remaining solids. Reserve stock for soup recipe.
For the Ham + Bean Soup
Heat large pot over medium-high heat, add olive oil swirling to coat. Add carrots and the next 5 ingredients through thyme, cook about 5 minutes or until slightly browned and softened.
Add reserved ham hock, smoked ham shanks, reserved beans, and ham stock. Bring to a boil then reduce to simmer for about 2 hours. At this point test at least 5 beans to make sure they are cooked to your desired consistency. If not, allow soup to simmer until desired consistency is reached.
After 2 hours, remove bones and ham shanks. Once cool enough to handle, remove as much meat as possible from ham shanks, shredding into bite size pieces. Add the meat back to soup.
Add chopped chard for the last 10 minutes of cooking.
Using a potato masher or a wooden spoon smash about 1/3 of the beans or until the desired consistency is reached. This is what gives the soup that creamy texture without using a drop of cream!
Flavor 360 https://flavor360.org/
CHEF KARA'S TIPS

This recipe makes a great weekend cooking project! While it requires a bit of a time commitment, most of the time is hands-off. Any leftovers make a quick weeknight meal or an easy lunch!
Save any left over ham stock in the freezer for your next batch of soup or to flavor a plain pot of beans.
With Easter right around the corner, this recipe is a great way to use up any leftover ham bones!
We love to serve this with our favorite whole wheat cornbread.