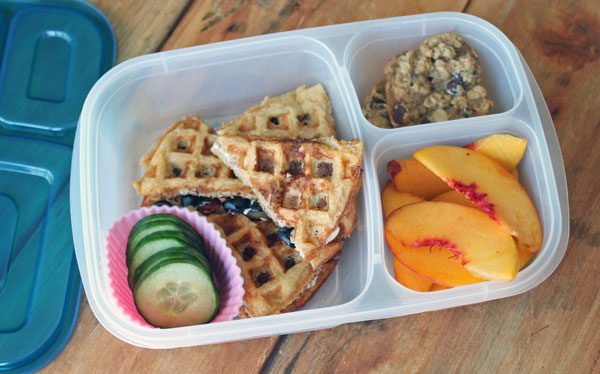 In the Kitchen with Kara: School Lunches
This is a big month in the Sullivan household. Our oldest started Kindergarten! Where did the years go? She's ready to take on the world and have lots of exciting adventures, while I'm ready to tackle school lunches! Like most schools these days, my daughter's asks we try to be as nut-free as possible. While this does make packing lunches a bit more cumbersome, I'm thinking about it as a source for inspiration and a challenge to get creative with one of my favorite meals! I included a week's worth of lunches, plus some tips to make packing them that much easier. Follow me on Twitter and Instagram for more lunch-inspired ideas of fun and healthy school lunches. And please share any great school lunch ideas you have, I'd love to hear them!
Here's a look at our first week:
MONDAY.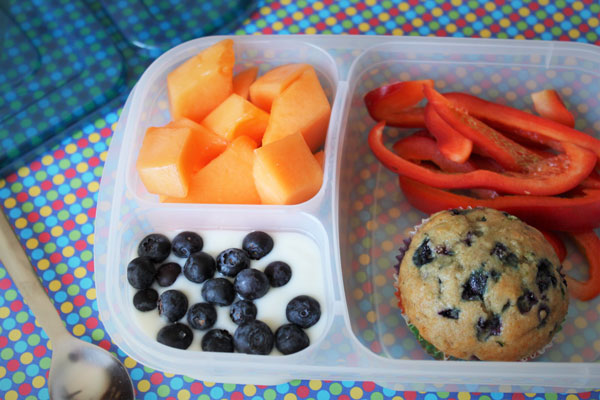 Elderberry + Zucchini Muffin
Vanilla Yogurt w. Blueberries
Red Pepper Slices
Cantaloupe Bites
CHEF KARA'S TIP

Making muffins is a great and easy way to get the kiddos involved in the kitchen. Most recipes are simple to make and use ingredients you probably have in the pantry. If not, use any store bought variety you like.
Freeze a batch of muffins so you can pull out just what you need- they'll last for at least month.
TUESDAY.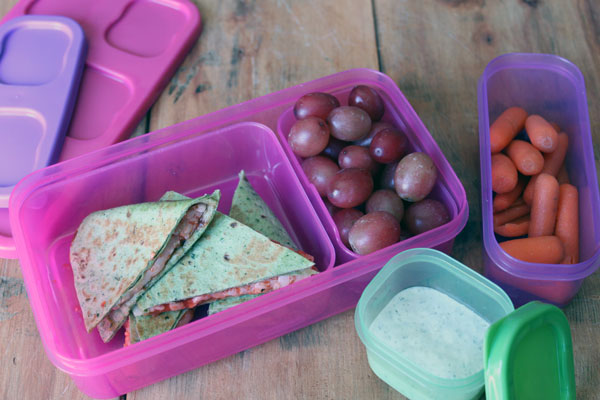 Pizzadilla
Carrots w. Ranch Dipper
Grapes
CHEF KARA'S TIP

Simply spread tomato sauce and shredded mozzarella inside your favorite tortilla. Fold in half and cook in small skillet sprayed with cooking spray for 2-3 minutes per side. Add in any of your kiddos favorite pizza toppings.
Make up the night before to make packing the lunch a snap in the morning.
WEDNESDAY.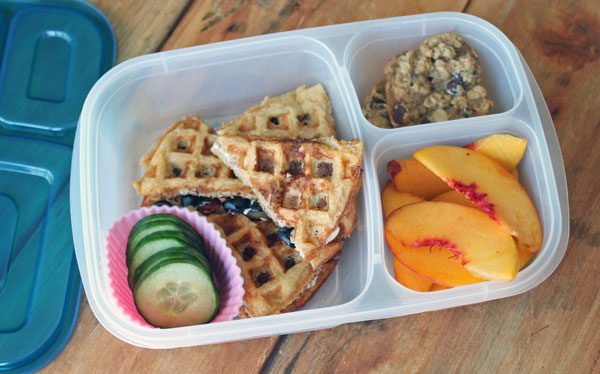 Waffle Sandwich w. Cream Cheese + Blueberries
Cucumber Slices
Peach Slices
Mini Oatmeal + Chocolate Chip Cookies
CHEF KARA'S TIP

This sandwich provides a great work around to the nut free rules. Use any fresh fruit or berries that you have on hand – strawberries and bananas are two of our other favorites.
Make a large batch of whole wheat waffles on the weekend and freeze any extras to use for lunches. Using a whole wheat store bought waffle works just as great!
Adding in a few mini homemade cookies provides a simple treat for your kiddo.
THURSDAY.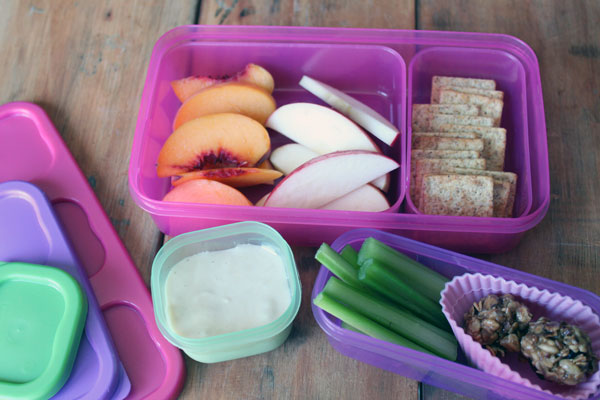 Yogurt + Sun Butter Dipper
Whole Wheat Crackers
Peach + Apple Slices
Celery Sticks
Granola Ball Bites
CHEF KARA'S TIP

Simply mix greek yogurt, sun butter, and a little honey to make any easy and healthy dipper.
Substitute pretzels for the crackers to mix it up!
Add in any sort of small dessert or snack you have on hand in place of the granola balls.
FRIDAY.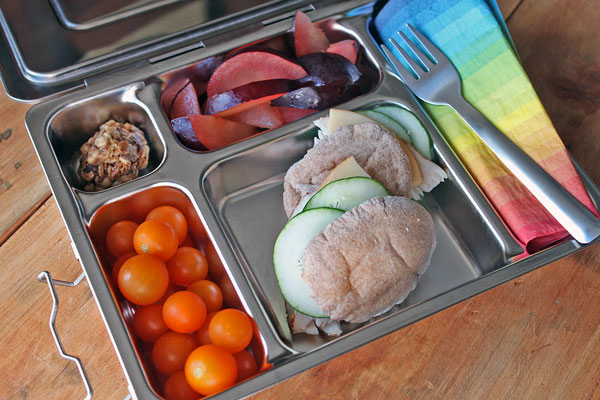 Turkey, Cucumber, + Cheese Pita Pockets
Grape Tomatoes
Plum Slices
Granola Ball Bites
CHEF KARA'S TIP

We love the Trader Joe's mini pita pockets!