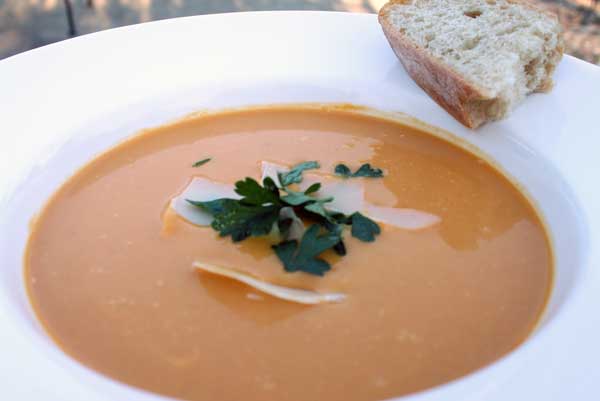 A recent school field trip with my daughter to Eckert's Millstadt Pumpkin Patch inspired me to spend the weekend cooking all things pumpkin. It was a chilly fall day, red and yellow leaves were on the ground, and there were pumpkins, pumpkins, and more pumpkins! My mind whirled with delicious possibilities…pumpkin desserts, savory pumpkin dinners, or pumpkin pancakes? I love this spicy, curry pumpkin soup that I came up with and it made a great family dinner that even my youngest gobbled up. Of course, I knew I wouldn't be able to bring home pumpkins without making my husband's favorite cream cheese filled pumpkin muffins. Muffins are perfect for my three year old budding chef to help with because they are simple to pull together, and she loves anything that uses cute cupcake liners! And I could never let all those wonderful pumpkin seeds go to waste, so I roasted them up with some salt for snacking (they also make a great topping for a fall salad).
---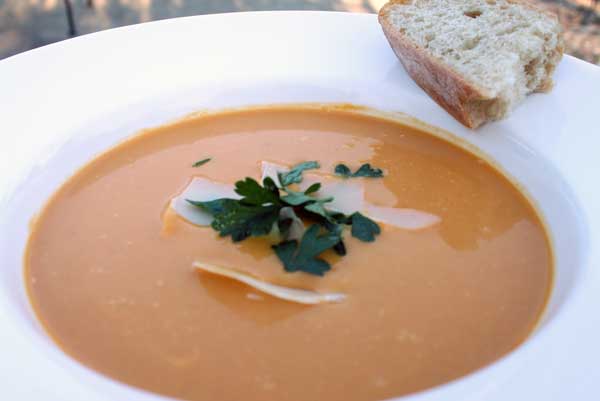 Spicy Curry Pumpkin Soup
2014-11-30 15:34:59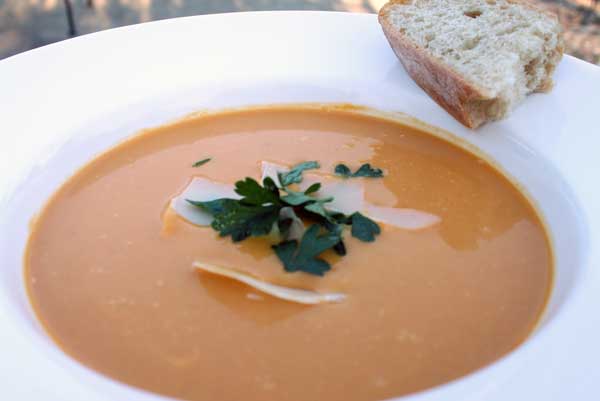 Ingredients
3-4 small sugar pie pumpkins – to yield 6 cups roasted pumpkin puree*
Olive oil for brushing
4 tablespoons butter
1 medium yellow onion, chopped
3 garlic cloves, minced
2 teaspoons curry powder
1/2 teaspoon ground coriander
1 tablespoon smoked paprika
Pinch of cayenne pepper
1/8 to 1/4 teaspoon crushed red pepper (optional)
5 cups chicken broth
Salt and pepper to taste
2 cups skim milk
1/4 cup 100% maple syrup
1/2 cup heavy cream
Instructions
Preheat oven to 400°
To make pumpkin puree, cut pumpkins in half, scoop out seeds and stringy flesh, brush cut side lightly with olive oil. Place pumpkins cut side down on baking sheet and bake until soft, about 35-45 min. Cool and scoop out the flesh. Freeze what you don't use for future purpose. * in a pinch for a fast week night dinner, use 3 (15oz) cans of 100% pumpkin puree in place of roasted pumpkins.
Melt butter in a large dutch oven over medium-high heat. Add onions and garlic and cook, stirring often, until softened, about 4 minutes. Add spices and stir for a minute more.
Add pumpkin puree and 5 cups of broth; blend well. Season with salt and pepper. Bring to a boil, reduce heat, and simmer for 10-15 minutes.
Working in batches, transfer soup to a blender or a food processor. Cover tightly and blend until smooth. If you want the soup extra smooth, pass the puree through a food mill, after the blender. Return soup to saucepan.
With soup on low heat, add maple syrup and mix. Slowly add milk while stirring to incorporate. Add cream. Add salt to taste. Adjust other seasonings to taste.
Garnish with some shaved parmesan cheese and fresh parsley or top with greek yogurt and fresh cilantro.
Flavor 360 https://flavor360.org/