As soon as a slight chill hits the air + fall has fully emerged I am quick to pull out my dutch oven + put a soup on for dinner. This recipe is great for incorporating pumpkin flavor + rich spices that will warm you from the inside.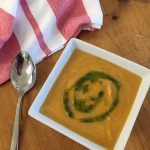 Spicy Pumpkin Soup
2016-10-25 10:33:47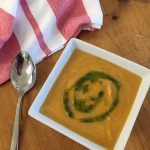 Seasonal Favorite with a Spicy Twist
Ingredients
3-4 small sugar pie pumpkins – to yield 6 cups roasted pumpkin puree*
Olive oil for brushing
4 Tablespoons butter
1 medium yellow onion, chopped
3 garlic cloves, minced
½ -1 teaspoon cayenne pepper
1/8 - 1/4 teaspoon crushed red pepper
5 cups chicken broth
Salt and pepper to taste
2 cups skim milk
1/4 cup 100% maple syrup
1/2 cup heavy cream
Instructions
Preheat oven to 400°
To make pumpkin puree, cut pumpkins in half, scoop out seeds and stringy flesh, brush cut side lightly with olive oil.
Place pumpkins cut side down on baking sheet and bake until soft, about 35-45 min. Cool and scoop out the flesh. Freeze what you don't use for future purpose.
Melt butter in a large dutch oven over medium-high heat.
Add onions and garlic and cook, stirring often, until softened, about 4 minutes. Add spices and stir for a minute more. Add pumpkin puree and 5 cups of broth; blend well. Season with salt and pepper.
Bring to a boil, reduce heat, and simmer for 10-15 minutes.
Working in batches, transfer soup to a blender or a food processor. Cover tightly and blend until smooth. If you want the soup extra smooth, pass the puree through a food mill, after the blender.
Return soup to saucepan. With soup on low heat, add maple syrup and mix. Slowly add milk while stirring to incorporate. Add cream. Add salt to taste.
Adjust other seasonings to taste.
Notes
* in a pinch for a fast week night dinner, use 3 (15oz) cans of 100% pumpkin puree in place of roasted pumpkins.
Flavor 360 https://flavor360.org/
Chef Kara Tip:
Play around with the spices. Try adding smoked paprika, curry + coriander.

Here I used an herb oil to garnish, but chopped apples, walnuts, + shaved parmesan cheese. Or try Greek yogurt + fresh cilantro.