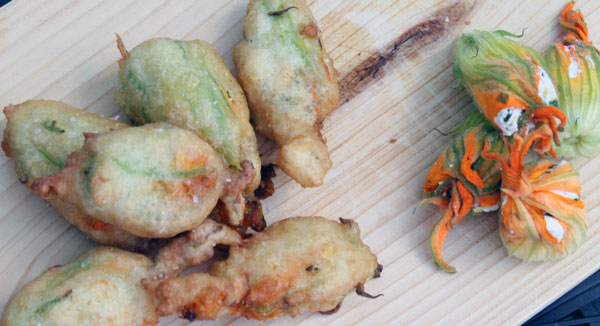 Squash Blossoms in Season
Only around for a hot minute at area Farmer's Markets so grab them while you can.
Here I stuffed them with fresh herbs and goat cheese and served them two ways. One raw and the other breaded in a tempura style breading and fried. They make a stunning summer appetizer for your next dinner party. You can also chop them up and toss in fresh green salads, or sauté them and add to your favorite veggie pasta. Bon Appetite!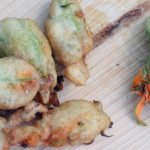 Squash Blossoms
2016-09-12 11:11:09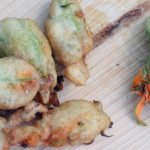 Ingredients
6 oz. goat cheese
1-2 tablespoons finely chopped fresh herbs (mix of basil, chives, parsley)
12- 15 squash blossoms – stamens removed
Vegetable oil – for frying
1 ¼ cups AP flour
1 teaspoon salt
12 oz. chilled lager style beer or club soda
Sea salt
Instructions
Combine goat cheese and chopped mixed herbs in small bowl. Carefully stuff each squash blossom with a small amount of goat cheese mixture.
In a large pot, heat about 2" oil over medium heat until a deep-fry thermometer reads 350°.
Combine flour and salt in medium bowl.
Whisk in beer or club soda until almost smooth, but take care not to over whisk batter.
One by one dredge blossoms in batter, shaking off excess.
Gently add to the oil, cook, flipping once with slotted spoon for 2-3 minutes or until golden brown.
Drain on paper towels.
Sprinkle with sea salt and serve immediately.
Notes
Feel free to mix up whatever type of herbs you enjoy or try ricotta, mint and some lemon zest.
It's best to use the squash blossoms on the same day you buy them.
You can also enjoy them stuffed – but not fried
Flavor 360 https://flavor360.org/