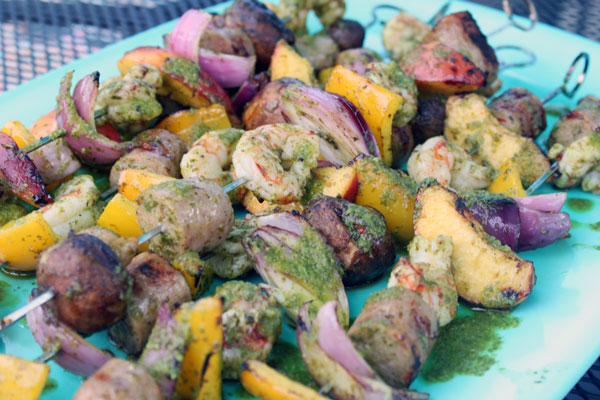 Steak & Peach Kebabs with Chimichurri Sauce
These kebabs are a great way to use up your extra summer peaches from the farmers market in the middle of peach season. And the chimichurri sauce makes great use of all those herbs growing in your garden. Just use the herbs you have on hand. If you don't have any cilantro, try parsley. The freshness of your herbs will add just the right kick needed to pull all the flavors together. Younger kids will love the mix of peaches and peppers, and older ones will have fun pulling the veggies off the skewers!
Ingredients
……….
Marinade
2-2 1/2 teaspoon cumin
1 teaspoon smoked paprika
1/2 teaspoon coriander
Salt and pepper to taste
Kebabs
2 lb. boneless sirloin steak – cut into 1 inch cubes
4 peaches – each cut into 8 wedges
1 large red onion – cut into wedges
2 red peppers – cut into 1 inch pieces
Chimichurri
……….
Mix cumin, smoked paprika, coriander, salt and pepper in a small bowl.
Add steak, peaches, peppers and onions to large bowl. Toss with marinade. Let sit for at least 30 minutes.
Thread onto skewers and grill on a well oiled grill over med-high heat for about 5-7 minutes – turning frequently until desired doneness. Top with Chimichurri and serve immediately or at room temperature.