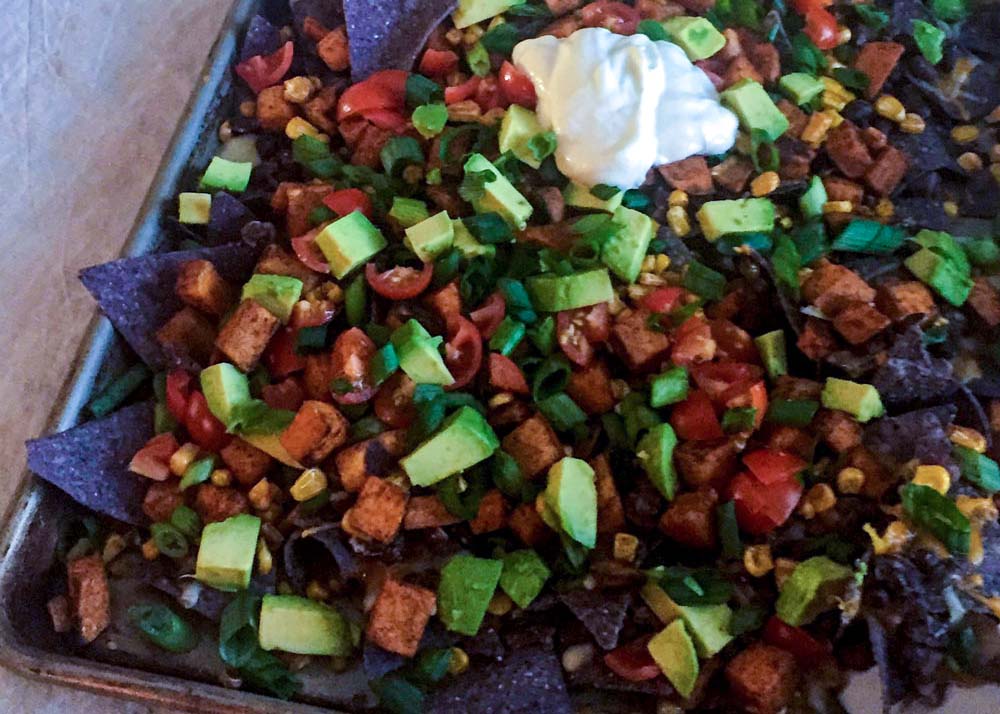 With a weekend of football + fun approaching, it's a good time to pull out some appetizer recipes that are great for sharing. These sweet potato nachos allow for the full experience of flavor you love from game day nachos, but without the meat. It's a touchdown at our house + is sure to be gobbled up (especially if my girls are within reach). Plus, these nachos make it easy to sneak some veggies in on the action. You can prepare them as I did right on a baking sheet for a casual serving experience (cutting down on the dishes too!) or dress them up with a themed platter.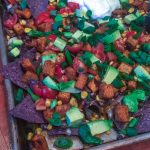 Sweet Potato Nachos
2018-01-30 19:26:22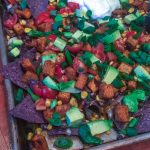 Add a meatless veggie twist on a nacho favorite.
Ingredients
2 large sweet potatoes – peeled and diced into ½ inch cubes
2-3 tablespoons olive oil
2 teaspoons cumin
1 teaspoon smoked paprika
½ teaspoon coriander
Salt + pepper – to taste
1 ½ cup frozen corn
Tortilla chips
2 cups shredded mix cheddar cheese + mozzarella – or your favorite cheese for nachos
1 can black beans – drained and rinsed
Tomatoes - diced
Green onions – thinly sliced
1 avocado - diced
Greek yogurt
Instructions
Preheat oven to 425°.
Place baking sheets in oven while preheating.
In a medium bowl, toss chopped sweet potatoes with olive oil and next 5 ingredients, through salt and pepper.
Roast on preheated baking sheets for about 20-30 minutes or until browned. Set aside.
On one of the baking sheets, spread frozen corn and drizzle with olive oil.
Roast for about 10-15 minutes or until slightly charred.
Combine with the roasted sweet potatoes.
Turn oven down to 375°.
To assemble nachos, spread a layer of tortilla chips on one of the baking sheets. Top with the shredded cheese and the black beans, roasted sweet potatoes, and corn.
Cook for about 5-7 minutes or until the cheese has melted.
Top with diced tomatoes, green onions, avocado and greek yogurt.
Flavor 360 https://flavor360.org/
Chef Kara Tip:

I always use greek yogurt instead of sour cream as a healthier alternative.

Swap in any of your favorite nacho toppings – thinly sliced lettuce or spinach, cilantro, zucchini in the summer, jalapeños.