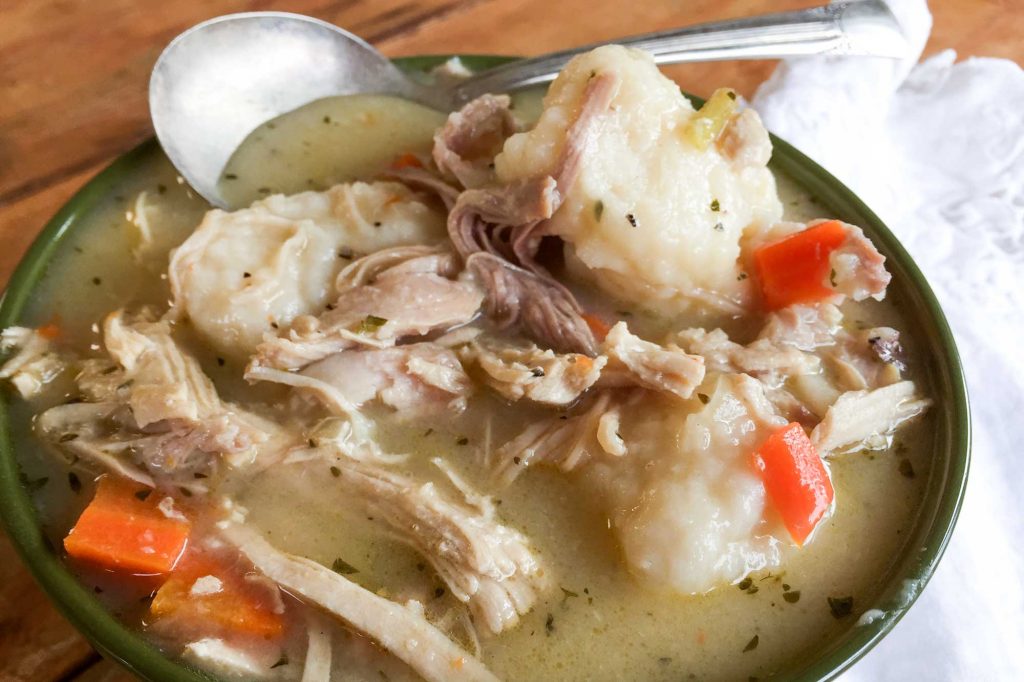 It is so nice to have a meal with family during the holidays. And if your family is like mine then you have some left over. I find that the week following a holiday meal is a perfect time to get creative + make something new with the pieces of the meal that landed back in the fridge. There always seems to be more turkey remnants than anything else around our house. This week I made turkey dumpling soup, which paired perfectly with the chilly evenings that we've had. It's so easy to swap out turkey for chicken in any of your own recipes. You can find my favorite recipe here.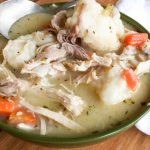 Chicken + Dumpling Soup
2016-11-30 09:50:36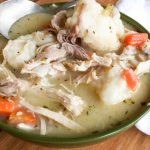 A classic + flavorful soup with old fashioned comfort.
Ingredients
½ cup flour
Salt + Pepper
2 ½ lbs. chicken – split breasts, thighs, drumsticks – skin on and bone-in
1-2 tablespoons olive oil
3-4 medium carrots - diced
3-4 celery stalks – diced
1 large onion - diced
4 garlic cloves – minced
2 teaspoons chopped fresh thyme
2 bay leaves
5 whole peppercorns
¼ cup flour
6 cups chicken stock
½ cup dry white wine
½ cup heavy cream
Salt + Pepper to taste
DUMPLINGS
3 cups flour
1 tablespoon baking powder
1 teaspoon salt
1 cup milk
2 tablespoons butter – melted
Instructions
In a small bowl, mix ½ cup flour with salt and pepper. Place chicken pieces on sheet pan and pat dry. Coat chicken in flour mixture – shake off any excess. Heat a large dutch oven medium-high heat, add olive oil swirling to coat. Place chicken in pan skin side down. Do not overcrowd the pan, work in batches if necessary. Cook the chicken until browned on each side – about 5 minutes per side. Set aside. The chicken won't be finished cooking at this point but with finish later in the stock.
In the same pan, add carrots, celery and onion. Sautee until starting to brown and become tender. Add garlic, thyme, bay leaves, and peppercorns. Cook for about 1 more minute. Add the ¼ cup flour and stir to coat. Cook for another minute. Add chicken stock and wine, stirring to dissolve flour. Add the chicken pieces back into the pan and cover. Let cook for about 20 minutes.
While the chicken in cooking, make the dumplings. In medium bowl, whisk together the flour, baking powder and salt. Add the milk and melted butter, stir with wooden spoon just until the dough comes together. Do not overmix. Spread some flour on a sheet pan and drop tablespoon size dumplings onto the flour-coated pan. Set aside.
Remove the chicken pieces from the broth and using a fork, pull the meat off the bones. Shred meat into smaller chunks and return to the broth. Remove the bay leaves. Bring back to a simmer. Add the dumplings. Cook covered to steam the dumplings for 15 minutes. Stir in cream. Season with salt and pepper to taste.
Notes
Don't remove the lid while the dumplings are steaming – this helps ensure they cook evenly and become fluffy.
Flavor 360 https://flavor360.org/
Chef Kara Tip:
To swap chicken for turkey, simply skip the steps that involve cooking the chicken. After the stock is done simmering, add some shredded turkey instead of chicken + continue with the recipe.