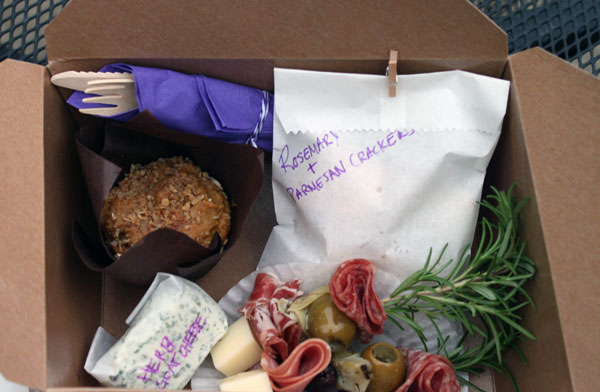 Leisurely, crisp, fall days + wineries always seem like the perfect pair to me. We are so lucky to live here in Missouri with have so many exciting wineries to choose from. My husband + I spent the past weekend at Stone Hill Winery in Hermann to celebrate the 40th birthday of a dear friend + it was quintessential fall!
The cool, crisp weather we've been having has me thinking of fall snacks + desserts. And this trip was the perfect reason to play with some new ideas! For the long bus ride, I created these winery snack boxes that included:
pumpkin cream cheese muffins with a crumb topping
homemade rosemary + parmesan crackers with goat cheese – kicked up a notch with some of my last surviving fresh herbs
rosemary antipasto skewers with briny olives, marinated artichokes, provolone, and some Volpi cured meats.
To top it all off + keep our bellies warm, I whipped up a batch of my favorite apple sangria to get the celebration started. Hopefully you are inspired to get out + taste the best of fall!