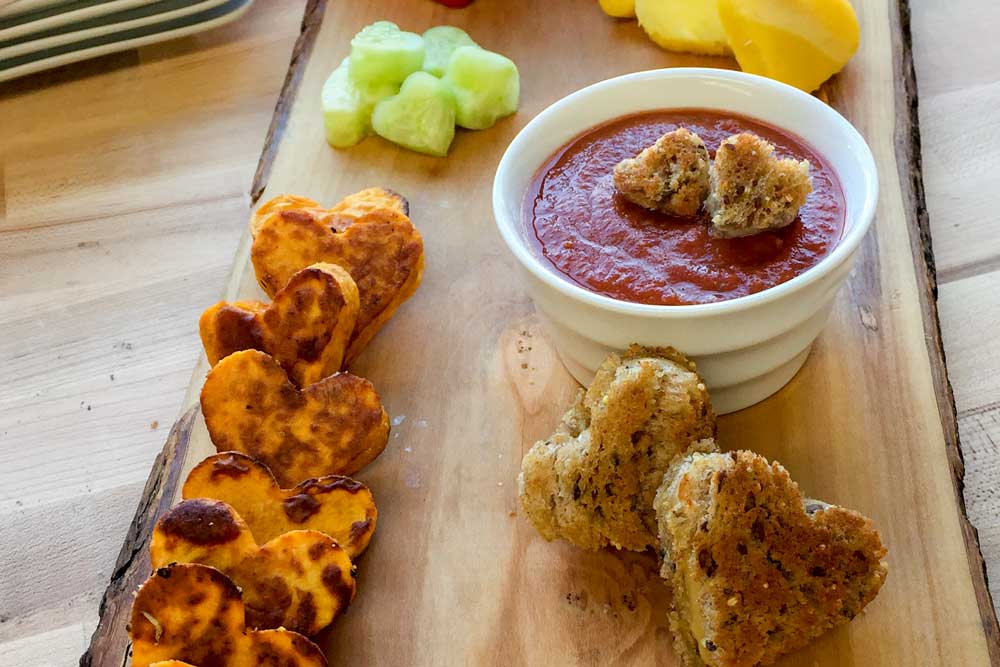 At our house, when dad is in charge of dinner, the meal of choice is what our girls like to call a "special daddy sampler platter." It's a cute tradition he started with the girls while I was working + has continued every since. It usually begins with pulling a variety of elements from the fridge. These pieces then transform into bite size parts of a greater scene. With the addition of toothpicks + anything else deemed necessary the scene is ready to take place. We have seen spaghetti become the hair of a self portrait while tomatoes + cucumbers become the eyes. A mixture of vegetables + fruit are strategically placed as a garden with trees, flowers + grass. The possibilities seem endless + the girls adore this special time. The most important thing about this simple tradition is the fun the girls have while dad imagines new + creative works of art. Following the special sample platter we all gather around the table or bar to talk about what happened that day.
Below is a great menu to start your own sampler platter that includes some of the girls favorite foods. It's perfect for the whole family, with something mom + dad can also enjoy!
Menu:

Cucumber hearts w. ranch

Mangos + Pineapple hearts

Roasted sweet potato hearts – because if you have met my girls you know there isn't a sweet potato in the world that they wouldn't gobble up!

Tomato soup

Grilled cheese hearts (Make regular size sandwiches for mom and dad if you want.)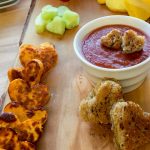 Tomato Soup
2017-02-07 15:14:49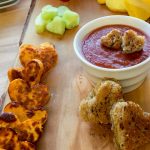 This is an incredibly simple soup that can come together in under 10 minutes. Perfect for a busy weeknight Valentines dinner Or if you are really pressed for time, I love Trader Joe's soup in a box. They have a great organic roasted tomato soup!
Ingredients
2 medium carrots – scrubbed, ends chopped off and cut in half – no need to peel
2 celery stalks – preferably some with the leaves on from the middle
½ onion
2 garlic cloves
1 Tablespoon fresh oregano
1-2 Tablespoons fresh basil
3 – 14oz can of diced tomatoes
Juice of 1 lemon
Salt + pepper to taste
Instructions
Combine all ingredients in a blender and blend for about 6-7 minutes or until smooth.
Adjust seasoning if needed.
Notes
The blender will make the soup hot, but feel free to throw it in a saucepan if you need to keep it warm.
Make your favorite grilled cheese to serve along side.
Flavor 360 https://flavor360.org/
Here is the shopping list to take along on your trip to the store