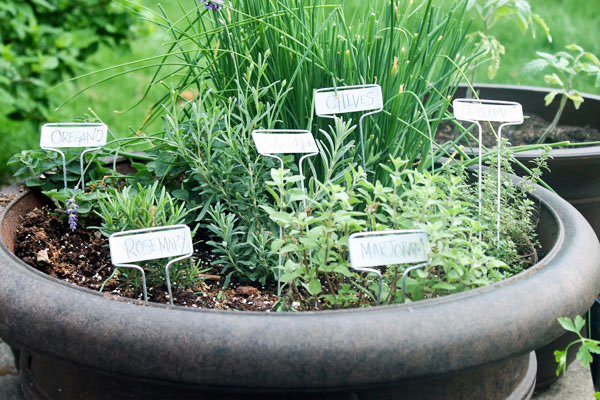 [et_pb_section admin_label="section"][et_pb_row admin_label="row" make_fullwidth="off" use_custom_width="off" width_unit="on" use_custom_gutter="on" gutter_width="2″ padding_mobile="off" allow_player_pause="off" parallax="off" parallax_method="off" make_equal="off" parallax_1="off" parallax_method_1="off" column_padding_mobile="on"][et_pb_column type="4_4″][et_pb_text admin_label="Text" background_layout="light" text_orientation="left" use_border_color="off" border_color="#ffffff" border_style="solid"]
A well kept herb garden is a great way for us at the Flavor 360 kitchen to encourage local ingredients by growing right outside the front door. In the kitchen there is rarely a dish that doesn't have fresh herbs included. Adding herbs is one of my favorite ways to include a unique + savory twist on a recipe that you wouldn't expect. Just like everything else in my cooking, my herb choices change with the seasons.
For instance, adding basil to watermelon popsicles in the summer. Or including rosemary to orange mini bundt cakes in the winter. I make use chives to add a subtle touch of onion in many of my spring dishes. Or incorporate basil in the summer, which we are continually seeking new uses for around the kitchen. During the fall and winter months I tend to gravitate towards warmer herbs like rosemary, sage + thyme.
If you want to add some excitement to your dishes at home, planting a herb garden is a great way to incorporate new flavors. At our home we plant in large containers for easier maintenance. My girls love to help out in the process, so I highly recommend grabbing the kids a fun pair of gloves + getting them involved early. The more they are involved in the process of creating the meals that are on their own table, the more likely they are to learn healthy eating habits.
[/et_pb_text][et_pb_gallery admin_label="Gallery" gallery_ids="3326,3330,3332,3333″ gallery_orderby="rand" fullwidth="off" show_title_and_caption="off" show_pagination="off" background_layout="light" auto="off" hover_overlay_color="rgba(255,255,255,0.9)" caption_all_caps="off" use_border_color="off" border_color="#ffffff" border_style="solid"] [/et_pb_gallery][/et_pb_column][/et_pb_row][et_pb_row admin_label="Row" make_fullwidth="off" use_custom_width="off" width_unit="on" use_custom_gutter="on" gutter_width="1″ padding_mobile="off" allow_player_pause="off" parallax="off" parallax_method="off" make_equal="off" parallax_1="off" parallax_method_1="off" parallax_2="off" parallax_method_2="off" column_padding_mobile="on"][et_pb_column type="1_2″][et_pb_text admin_label="Text" background_layout="light" text_orientation="left" use_border_color="off" border_color="#ffffff" border_style="solid"]
Here's what we typically have in our garden:
Chives

Basil (a couple different varieties)

Oregano

Thyme

Lemon thyme

Marjoram

Parsley

Rosemary

Lavender

Peppers

Tomatoes

Mint
[/et_pb_text][/et_pb_column][et_pb_column type="1_2″][et_pb_text admin_label="Text" background_layout="light" text_orientation="left" use_border_color="off" border_color="#ffffff" border_style="solid"]
This year I also want to include:
Sage

Zucchini bush

Lettuce

Carrots

Blueberry bushes
[/et_pb_text][/et_pb_column][/et_pb_row][/et_pb_section]