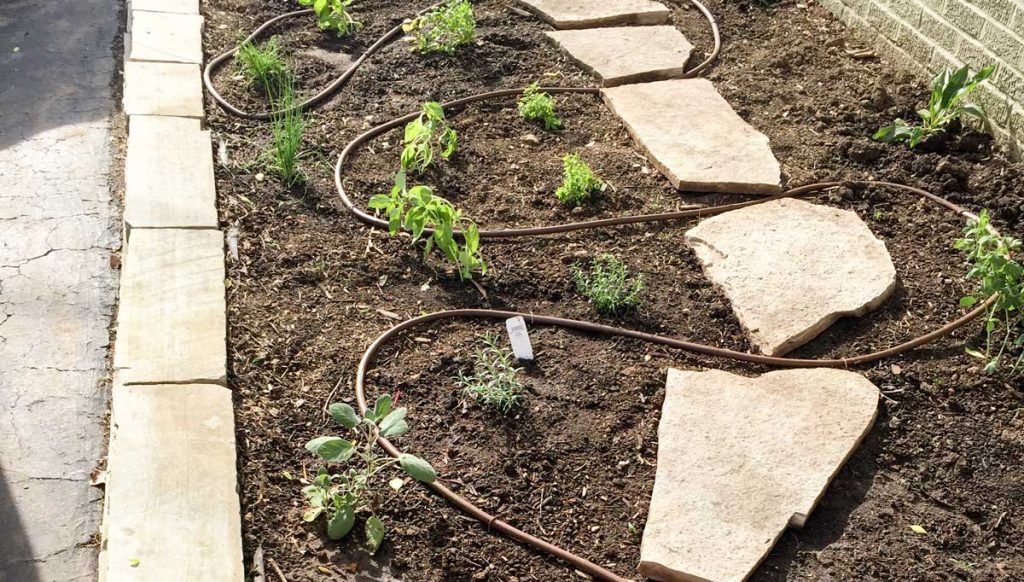 [et_pb_section admin_label="section"][et_pb_row admin_label="row"][et_pb_column type="4_4″][et_pb_text admin_label="Text" background_layout="light" text_orientation="left" use_border_color="off" border_color="#ffffff" border_style="solid"]
I spent quite a bit of time in the garden yesterday + it was fantastic. Digging up roots was probably the most challenging part + almost broke my back! I decided that I would fill the garden space with herbs + a few native Missouri plants that will attract butterflies + bees.
The native plants are located along the brick wall; a mix of asters + coneflowers. I will be picking up a few more to fill in the gaps. These tend to grow quite tall + are gorgeous in color with their bright purple flowers. I also planted a baptisia bush, which buds brilliant dark purple flowers. I am excited to see them come to life once they have grown.
All of my plants came from Bowood Farms, they have a great staff that are very knowledgeable + friendly. I appreciate how helpful they were in the planning stages of the garden. They helped me map out the best strategy for the garden + have been a wonderful resource each time I visit. All of their plants are grown right on the farm + I am heading back later in the week to pick up some incarnata milkweed. I will be planting it along the back wall of the garden as a great food source for monarch butterflies.

Look for more updates as things get growing.
[/et_pb_text][/et_pb_column][/et_pb_row][et_pb_row admin_label="Row"][et_pb_column type="1_3″][et_pb_image admin_label="Image" src="https://flavor360.org/wp-content/uploads/2017/04/garden2.jpg" show_in_lightbox="off" url_new_window="off" use_overlay="off" animation="off" sticky="on" align="left" force_fullwidth="on" always_center_on_mobile="on" use_border_color="off" border_color="#ffffff" border_style="solid"] [/et_pb_image][/et_pb_column][et_pb_column type="2_3″][et_pb_text admin_label="Text" background_layout="light" text_orientation="left" use_border_color="off" border_color="#ffffff" border_style="solid"]
Here is the full list of what was planted:
Basil

Chives

Oregano

Thyme + Lemon Thyme

Marjoram


Lavander

Parsley

Rosemary

Cilantro

Sage
[/et_pb_text][/et_pb_column][/et_pb_row][/et_pb_section]